Ensuring maximum security
and a smooth gait
CONPAL unit
This unique wheel unit for rollators has a built-in automatic braking system that functions only when you exceeded a certain speed, thereby ensuring your safety. This unit enables even those with concerns about excessive speed on a slope and falls to go out with the rollator safely with confidence.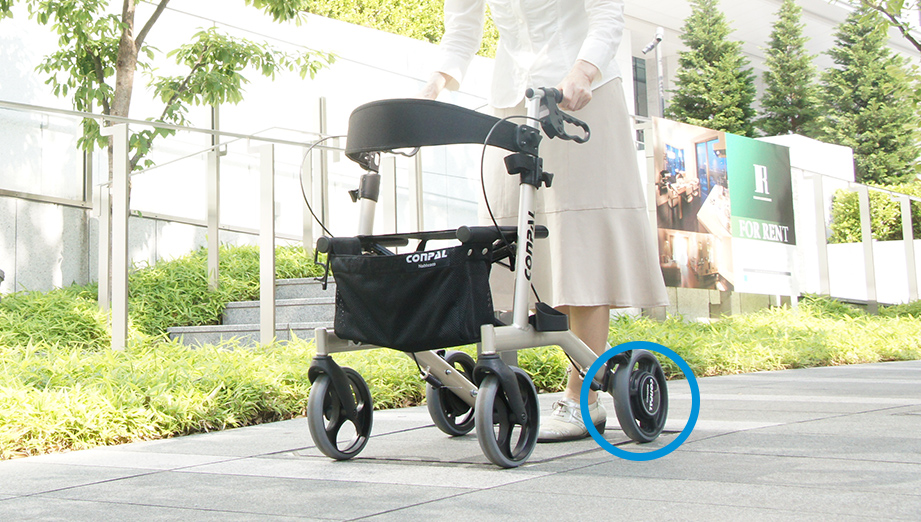 Harmony of secure and smooth walking
The CONPAL unit features 3-level braking. It can be easily adjusted to your specific needs. When you reach to the set speed, the centrifugal brakes in the CONPAL unit will automatically come into action, ensuring a stable posture and smooth gait.
Reduce risk of falls
The CONPAL unit promotes a steady pace, ensures that you keep a distance to the rollator and prevent the rollator from running away from you, resulting in reducing the risk of falls.
Use cases
For people with Parkinson's disease and other gait instability

Because The CONPAL unit is automatically activated, therapists' feedback has been positive, with the effect of helping users to maintain a stable standing position and improve their posture.

For those who have trouble with handbrake activation

This new system can be used by those who have had to give up going out in a walking car because they have difficulty applying the handbrake due to a weak grip.

For people doing gait training in rehabilitation

It can be used from the initial stages of rehabilitation to the final stages. And it can also be used not only for rehabilitation in hospitals, but also for gait training at home.

For people who are worried about going downhill around the house.

Until now, Rollator have been carefully descending hills by nervously adjusting the braking effort with the handbrake.

On the other hand, Compal unit automatically activates the Speed control braking system to reduce unnecessary acceleration, allowing users to walk with safety.


*The above usage examples are only suggestions. They are not guaranteed to be effective.
Technical data
| | |
| --- | --- |
| Weight Limit | 100kg |
| Weight of Unit | Approx. 1kg/wheel |
| Speed adjustment | 3 steps |
| Wheel Size | D=200mm(8 in), W=35mm |
| Shaft Size | D=8mm |
| Misc. | Water resistance,Replaceable Tire |
As a part of our ongoing product improvement initiative, we reserves the right to change specifications and design without notice. Further, not all features and options offered are compatible with all configurations of the rollator.
Document